I had been back from the vacation last week but haven't had the time to go online until now. Work and house chores have been stealing bits and pieces of life away from me. I haven't had a decent sleep since Monday. It really is stressful. I need to make a decision regarding my so-called career because our account is closing by September and I have to choose what road to take. I wish I could afford to rest and relax for a few months before hunting for another job. I know it is going to be difficult to go back to scratch but I just have to, again, go out of my comfort zone, embrace change and be optimistic about new challenges. I know I have been through this situation before and I am here now and I can't say I had any regrets. I'm gonna miss my work in that account and of course, I'm gonna miss the people and my friends, of course, whom I may not work with again. I don't wanna be selfish and want people to stay with me 'til the end because one way or another, each of us has his/her own path to take. It is sad, but we all have to stand up and move on.

view from above




fluff
Anyway, I have a lot of stories about my vacation. I just wish my family and I had a longer time to spend away from work and everything else. It was great seeing loved-ones and relatives again after a very long time. It was the first time my siblings rode a plane so we took in the view and got as many pictures as we want. We arrived in Bacolod City on June 6 and went straight to my grandmother's house in San Miguel, Murcia, Negros Occidental. The place is about 45 minutes away from Bacolod City. The next day, we went to the city again to sightsee. The thing is, the city I once viewed as "huge" when I was a little kid seemed so small. Even my elementary school looked smaller than what I remember. The places triggered a lot of memories (mostly woes) from the past. Now, I just laugh at them. My sis saw her former teacher and it was nice seeing familiar faces. There are changes such as the malls and oh I love the cheaper movie prices! We watched "Prince Caspian" there and the price was almost have of what we pay here in Manila. Haha! Some things remained the same such as the oh-so-delicious original Bacolod chicken inasal. June 8 was my grandmother's birthday. She turned 86. She looked better than the pictures I've seen of her when she was in the hospital. It was like a family reunion. There were a lot of kids (my cousins) and all of my mother's siblings were there except for one. Even my other Lola, grandma's sister was there to visit her. It was nice.

pretty Lola
The next day we went for an hour's ship ride to Iloilo City. We arrived there really early so we had breakfast at my sister's godparents' house. They have been close friends with my parents since time immemorial. We killed time again at a nearby mall and since we were already in La Paz, Iloilo City, we ate a very original La Paz batchoy for lunch. Yummy! After lunch, we went to a couple more houses to visit some relatives and finally headed to Leon, Iloilo where my father grew up in. We have a lot of relatives there and some of them I don't even know. Haha! That night was my first time to play the Nintendo WII and my siblings and I loved it! There was this specific spot in the town plaza wherein my bro and I had our pic taken years ago. we had it taken again on that same spot. Haha! I so missed that place. When my family used to live in Bacolod, we used to spend some summers there in Leon and I have a lot of good memories from that place. I wish we could have stayed longer.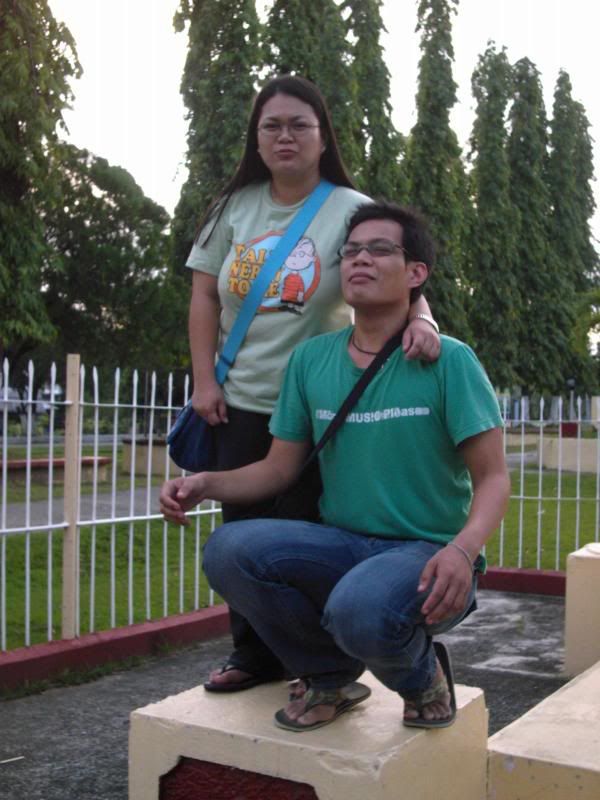 now and then




original batchoy from La Paz
We went back to Murcia the next day. On June 11, we went to Mambukal Resort. It's a mountain resort nestled on Kanlaon volcano. It's just a 15-minute drive away from my grandmother's place. There are swimming pools, a butterfly garden, bat-watching, a river, waterfalls and hot springs. I have been there when I was a kid but wow, the resort is really beautiful now! It is such a tourist attraction. The afternoons were rainy that time, but we still went there for an overnight stay. Then we headed for Manila the next day. Well, we not including my mother. She's there until now caring for my ailing grandma.

near the water




Mambukal Resort
It seems like we left smalls parts of ourselves there. I was glad I took that time off from everything. I hope we can do that again soon.
Pictures speak louder than words, so
click this
to view some pics we took during the vacation.