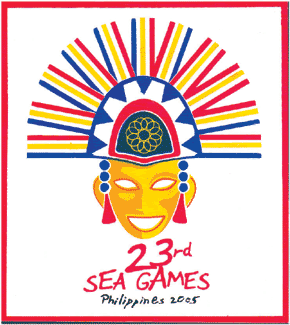 Nothing much these past few days. Work still exhausts me. Last Sunday, we watched the
23rd Southeast Asian (SEA) Games
on TV. I didn't miss it coz
Rivermaya
performed in the opening ceremonies together with Maestro Ryan Cayabyab and the
San Miguel Philharmonic Orchestra
. They sang
Awit ng Kabataan
,
Alab ng Puso
and
Posible
. Imagine rock-pop music fused with a full-piece orchestra. It was awesome! Well, that was the highlight for me, including the fireworks during their performance. But there were other artists who performed as well and the whole program itself was elegant and colorful it made me feel proud to be a Filipino. :)
Philippines is currently first in team standing, followed by Vietnam then Thailand.
The SEA Games are being held in
several locations
throughout the country until December 5, 2005. I have to admit I am not the athletic type, though I really wish I were, but I love watching sports being played. There are also several touching stories behind the athletes who dreamed and won their gold medals. One example is Shiela Mae Perez's story. She won her first gold with partner diver Ceseil Domenios in the 3-meters synchronized springboard. About 10 years ago she was discovered in Davao when she, as a little girl, dove for coins being thrown by tourists from ships and boats. At age 9, she started competing and this year, she finally won her gold. It is truly inspiring.
To all Philippine athletes, you are all heroes! To the other countries who participate in this event, I hope you are enjoying your stay in our country.
Why can't we just stay
united
like this
all the time
, not just during athletic competition such as the SEAG? *sigh*
Posible kayang labanan ang agos ng paghamon.
Mabuwal at madapa man sabay tayong aahon.
Posible kayang mabura ang alinlangan sa sarili. Ang tapang sa loob makikita.
Taglay mo ang dugong bayani
Sulong, laban, 'wag uurong. Pakinggan sa 'yong puso ang sigaw na dati'y bulong.
Posible.
Posible kayang matikmantamis ng gintong mi-nimithi.
Sa kagat ng bawat laban magtatagumpay kang muli.
Posible.
Basta Pilipino.
Posible.

(by Rivermaya)
P.S.
It's already December tomorrow. Aaaah!!! Deck the halls with boughs of holly...