It's been a hectic weekend for me. This is a delayed entry and I'll try my best to compress the past 2 days here.
After my Friday shift, I had to run back home to catch some sleep in order for me to attend
Chiqui
's birthday
moot*
. I had to skip a team breakfast. Sorry guys, I know it's healthy to rant during team bonding, but sometimes it's nice to stay away from work and other work-related issues during weekends.
I was glad to have gotten at least a 5-hour sleep. But then it made me late for the moot. The mooters were halfway through the movie when I got in the mall. So, instead of catching half the movie, I strolled around the mall instead. Bad idea coz I missed meeting
him
, our VIP. (Hahaha!) Too bad. It would have made my day. Really. Maybe next time. But I got to join dinner and it was fun! A combination of
Gabe
,
Miao
and Sunshine never fails to make me smile and even laugh so hard my cheeks hurt! I also got a little surprise on my end, but I won't get into it lest anyone would conclude and rat on me. Let's just say that I kinda like this person and he's there during dinner and again, he might be gay. *sigh* So, what's the point, right?
Oh well, after dinner, I had to run again so I had to miss coffee and Red Box videoke (Waah!!! I really wanna go... *sniff*) but my parents and sister were waiting for me in Baywalk to watch
Studio23
's
Baybreak
. There was heavy traffic so I had to walk about 3 blocks and I was just in time to watch the 9 PM fireworks display. I missed Orange and Lemons and Brownman Revival. Waah! There were lots of people there and it was the first time my parents went to a Saturday-night gimmick with us, so it was nice to finally show them that we don't do stupid things when we watch gigs. I hope they enjoyed it coz they got to see some famous TV personalities and there were really a lot of families even bringing food there in Sulayman Park for a picnic.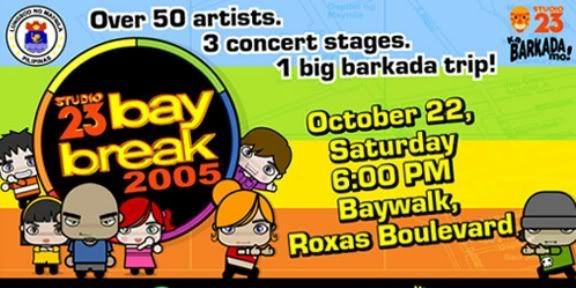 My
sister
and I mostly stayed in
Camp Yellow
, the middle and main stage, and watched Barbie Almalbis and Kitchie Nadal perform. Ely Buendia (former vocalist of Eraserheads) was there to perform with his new band, The Pupils. Then we went to
Camp Green
and were just in time for Spongecola. My sis was screaming her lungs off for Yael. After they performed, we went out and looked for food. Yeah, looked for food since the nearby restos and even 7-11 were full of people. We missed Imago's performance and just heard their songs while we were buying food in another convenience store a couple of blocks away. We got back and ate and then went near the stage again to watch Mojofly. We like their songs too! We got nearer during the 12 midnight fireworks since we knew
Rivermaya
will perform next. The fireworks were really beautiful I had to snap a picture. Rivermaya was supposed to perform only 5 songs but they were waiting for
Hale
. They extended to 3 more songs, including a wonderful medley (Rico, Mike, Mark and Japs, you rock!). Their last song was "Sunday Driving" and there were some sound check problems. My sis and I were disappointed because Hale did not show up. So, I have more shots left in the camera. Oh and by the way, I don't have a digicam anymore, I'm back to the old stuff so I had to have the film developed and scanned first. Sheesh. Ya'll have to wait for the pics since I still have a swimming outing to go to this Saturday. Yay!
Sunday morning, I watched "The Buried Secrets of
M. Night Shyamalan
" in HBO. It was creepy and very, very interesting. I thought over it but I don't wanna post my thoughts here.
He
might know. If you wanna know what I'm talking about, tune in to HBO Asia this coming Saturday, October 29 at 2:45PM, Philippine time. =)
Sunday afternoon, we scoured some nearby
ukay-ukay
for a shirt and some shorts but we didn't see anything worth buying. So, we went to the mall instead. Got some cool shirts and a pair of flip-flops. Had more bonding time with my mother and sis too!
I just noticed that this weekend, I have sacrificed one for another-- my time with workmates to time with TPTS friends; then time with friends to time with my family. Although I missed lots of fun, I still ended up quite pleased with my decisions. There is indeed a time for everything 'coz we can't have it all at once. =)
-----------------
*moot: derived from the word entmoot; a gathering of ents (treehearders) from JRR Tolkien's "The Lord of the Rings".
TPTS
has used this term to signify "meetings" or "EB's".