They say
the only thing constant in this world is change
. 'Tis true. Obsessive-compulsive people like me don't welcome big changes, but I have to face the fact that they are a part of life.
By October 23, I will be under a new company. Currently, I work in
this company
in one of its numerous accounts. The
account
I'm in was bought by a
new company
as this new company starts to expand their business here in the Philippines. Good thing about this is, I won't have to be working for one company and work for another (sounds complicated for those who are not familiar with the call center industry). To make it more simple, I won't have "two bosses" anymore. I'll just have one big boss -- the new company.
I am excited and nervous at the same time. I like routine and sometimes, drastic changes really stress me out. Yeah, sometimes they physically stress me out that I miss a month's otherwise-regular menstrual cycle! By next month there will be new schedules, new supervisors, new management, new faces on the floor... The new company has not stated the new benefits yet but since they promised they will meet or even surpass what we are being offered right now, I'll take their word for it.
So, the last paycheck from the current company will be on
November 11
(and I am sooo looking forward to it!). By that time, I would know what my new schedule is until the end of the year. I hope weekends are still my days off since I don't want to report for work (NOT AGAIN! EVER!) on Christmas Eve and New Year's Eve. I don't wanna cry going to work again
like what happened to me a couple of years ago
. I also hope I would be able to file a vacation leave for the 16th of November (Harry Potter fans know the reason why. Hehe!)
Ever had that feeling when you just want to fast forward the days? There's only one thing that keeps me from crossing days on my calendar. Some people will be leaving the company for good (after November 11). I'm gonna miss them for sure, especially my teammates.
And
Yuki
... All I can say is, follow your passion. Be where you're happy. I'll miss the laughs and the stories and the
sex
talk. Hahaha! Live and love and take care of your heart (and pocket!). Hope you'll find the man... err... woman (?!) who deserves you!
Pinapaalis na kita kasi nag-gu-goodbye na ako.
*Joke*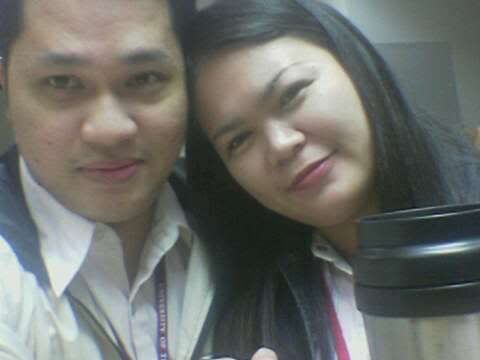 during one of those fun pantry "lunches"
More pictures with my friends and co-workers
here in my Multiply album
.