Today, I realized that sometimes it's nice being in the middle of things--- just like the balance of a seesaw. Sometimes I keep things up and sometimes down, but never always up or always down. Get the drift?
See previous related post.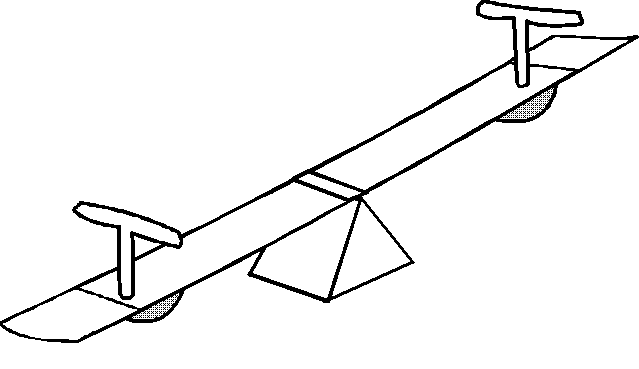 Anyways, I just thought listening is the best way to understand people's sides. I don't wanna take sides though 'coz I have my own opinion of things. But I think I kinda like being in the middle. At least I'm friends with everyone and that's what is important to me. Some people may annoy me or piss me off but never to the point where I consider the person an
enemy
. I guess what I have to do is just be honest about my feelings.
Oh and I am sooo looking forward to our team's plan of going out of town one of these days! It's been a long time since I breathed fresh air and I'm excited about it. Then I filed for vacation leave on November 16 (Harry Potter fans know why!) I'd probably treat the whole family to dinner as an advance celebration of my
sister's
19th birthday on the 26th (I may not have the money at that time! Ha!). :)
By the way,
Neil Gaiman
won the
Quills Award
in the Graphic Novel Category for "1602". Neil, you rock! :)
Tumatakbo ang oras naiiwan na ako ng panahon
'Di na nagbago'ng bawat araw pare-pareho parang kahapon
~"Tumatakbo" by Mojofly