Before anything else, this is my 1001st post in my
Blogger
blog. Hehe!
Yesterday, I hung out with my friends at work. We had brunch and roamed around the mall, keeping an eye on things we want to buy and planning for a hopefully successful Tagaytay trip in the near future. It was enjoyable despite the weariness since we all just came our of an almost 10-hour shift. I would have wanted to watch Spongecola perform in the Glorietta activity center if only I wasn't too sleepy. Besides, my sister had classes so what's the point in staying until the evening?
Before I went home, I passed by Bibliarch and Sketchbooks, just to hold "Anansi Boys" in my hand. It was enchanting! Then I asked the salesgirl how many notes were left, she said less than 10 left. I looked at the back and saw the price Php1099. I then remembered, I gave an extra Php1500 to my parents for the apartment when I got my salary (aside from the usual amount I give them). I wanted to cry.
Oh well, such is life. =(
P.S.
Just wanted to share this pic taken from my officemate's camphone. We were in the office elevator and we were all looking up the mirrored ceiling.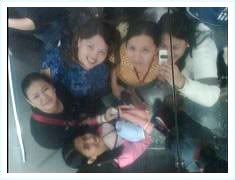 mirror mirror