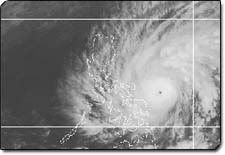 Photo from ABS-CBN news
Another super typhoon is on its way here.
'Reming' (International codename: Durian) is estimated to hit Manila at approximately 8 PM tonight. People are trying to be more careful this time. The government suspended classes on all levels in advance. The huge billboards in major highways have been rolled. Though there is no rain now, the wind is a bit strong outside. Life still goes on because I'll still be going to work tonight (maybe a little earlier than usual) but be safe everyone!