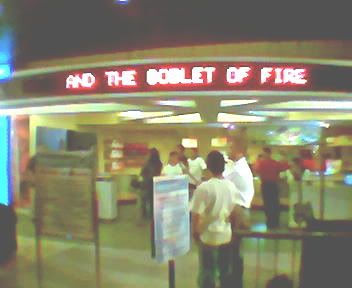 11 November 2006 8PM SM Megamall Cinema 2
Ok, I promised myself I won't post any spoilers after my first viewing. I am nearly finished with the book and I'm enjoying every page, especially after watching the movie and seeing the actors behind the characters. I want to finish reading before my second viewing on the 16th.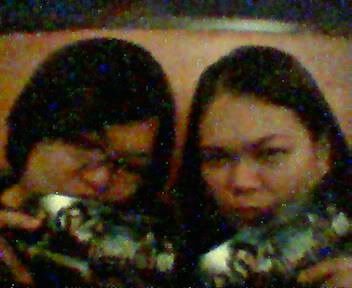 proud Potter fans!!!
All I can say (as of now):


quoting Miao (translated from Tagalog to English), "Harry Potter fans shed tears starting from this movie and the next and the next... come movie 7, we won't have any tears to shed." Bring some tissues when you watch this film.




more and better magic on screen means more and better special effects! When I say "better", I really mean better!




two-thumbs up to Ralph Feinnes!!! He is the perfect Voldemort!




I wish there could have been more time for each scene, but I guess they couldn't cram everything in just one movie.




see a better-acting Daniel Radcliffe compared to the previous movies... Rupert and Emma are still perfect for Ron and Hermione




they're all grown up!!! :)




it is the darkest of all four movies




more goodlooking actors to drool on (Robert and Stan for the fangirls and Clemence and the actresses who played the Patil sisters for the fanboys!)




I have accepted Katie Leung as Cho Chang (I'm not sure with my my sis though...)




hope the other champions and Ginny had more lines to say




it's worth watching over and over again


That's all I can think of as of the moment. Aside from Miao, also met
Beejay
and some new faces from
Pinoy Harry Potter
in their cool costumes!!! I can't wait for the 16th to watch it again. I also can't wait for the 20th so we can finally get our Hogwarts robes! By the way, there is a Harry Potter event at Shangri-La EDSA on November 19 and 20 and I might see you there! :)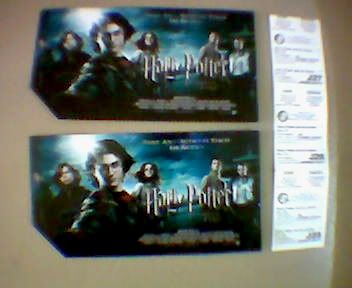 advance screening tickets and sureseats tickets
Sorry pics only taken by my poor Nokia 6610i camphone (mostly in the night mode) so they're are not pretty shots. More pics in
this Multiply album
.