It's not as sinful as one might think, but since I desperately wanted to convince myself to start going on a diet, I committed a "crime" against myself. After shift and hanging out with 3 my friends, I found myself alone and killing time in the mall. I got hungry after a few hours and I "discovered"
Penny Brown
. I ordered a Smacker! Imagine about 2 hefty scoops of ice cream sandwiched between 2 freshly-baked cookies! Not only that, you can choose your own ice cream flavor and choose your fave cookies. I got a white choco loco (coz I love white chocolate) and a Penny Brown classic (coz I don't wanna miss that) and sandwiched between is a caramel/pastillas ice cream (coz cappucino was not available then). Yumyum! I called it "Karen's Sinful Escape". That's my Penny Brown moment.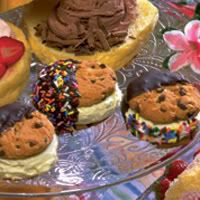 Diabetic? No worries! Just add a few pesos and you can choose sugar-free ice cream and sugar-free cookies so everyone can enjoy this treat! I know my father would love that. Look for the stand on the 3rd floor, Glorietta 4 Food Choices. :)
After that I found myself watching "Borat". I miss watching movies alone and the movie was so funny! I recommend watching it with a group of friends. Although I didn't care laughing out loud despite being alone (especially when I saw *that* scene and I thought, now I know why that's the movie title and it's NOT because of the lead character's name. Hahaha! Evil me.) Oh well, I broke my promise of not being a glutton anymore but it was worth it. I think I deserved that treat. Now, I need an activity to sweat everything out, but the holiday season is not exactly the best time to go on a diet with all the food around, right?