Due to insistent public demand,
here are the "Equus" photoshoot pics.
For those of you who don't know what "Equus" is. It's a stage play Daniel Radcliffe will play a part in. No, he won't be Harry Potter-y there. He's all grown up. He's a man. Oh yeah! More info
here
and
here
. All photos taken from
this group's album
. Here's a sample: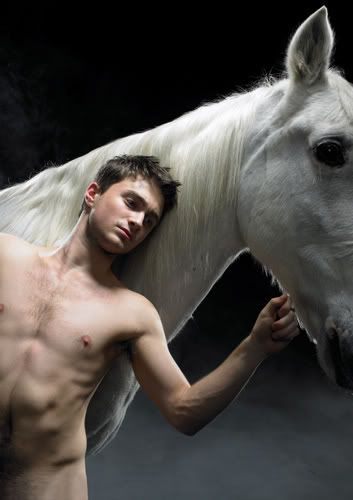 dontcha wish you were a horse?
Oh and it's official.
JK Rowling
announced that "Harry Potter and the Deathly Hallows", the 7th and last book in the Harry Potter series, will be released on July 21, 2007. The last time we're gonna take a glimpse into this wizarding world. *sniff*
The movie "Harry Potter and the Order of the Phoenix" will be shown on July 11, 2007 (a day after my birthday!) Don't you just love July and 2007? Hehe!