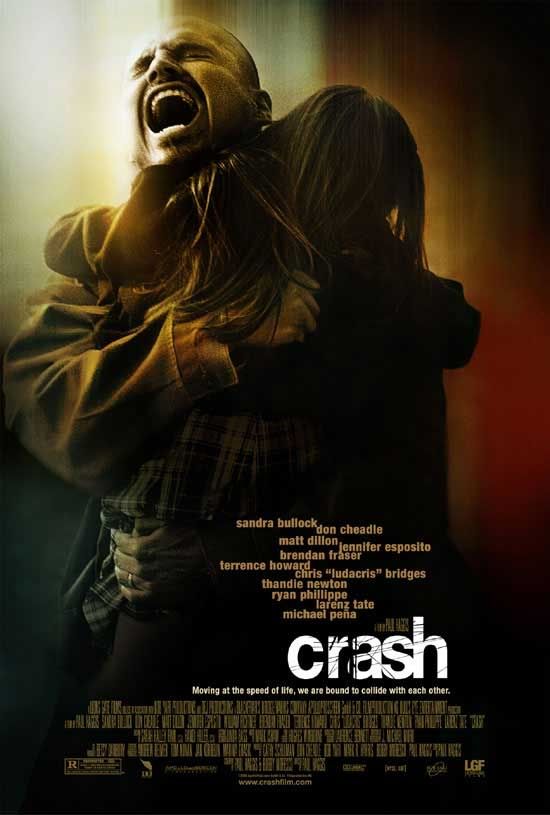 This movie is the "Best Picture" in the most recent
Academy Awards
. A lot of people, including me, were surprised of this outcome. With movies like "Walk The Line", "Brokeback Mountain", "Transamerica" and "Memoirs of a Geisha" to name a few leading contenders in the category, I wondered what made this movie
better
from the rest. I have to admit the all-star cast was impressive. I mean how many movies do you watch with Don Cheadle, Matt Dillon, Sandra Bullock, Brendan Fraser and Ryan Phillippe in it? The movie has a great cast portraying characters in moral collision with each other.
I had no idea what the movie was about. Watching the Oscar's made me curious. It was shown last night and I got the chance to watch it on TV. I suggest that anyone who would want to watch this flick would start from the beginning. If you get to view it in the middle, each characters' stories would be too intertwined that you'll get confused. That happened to my father and I had to explain to him every now and then, thus distracting me from watching intently.
The main topic is racism. The characters were trapped in their own small world the way their lives affected and influenced each other. There were scenes that made me mad, as I have my own personal experiences about the topic, and some scenes that made me so sad. I love the way the characters are made dynamic in the sense that there is no "villain" or "hero" in the story. Each person has his/her own achievements and own flaws as the movie progresses. It is difficult to review the story without delving into the lives of the characters and how their decision affect each other's lives.
At this point, I think I am confusing myself (LOL!), so I suggest you watch the movie and decide if the movie deserved the Oscar's. I don't think they really needed those big-time actors to play the roles, but I guess they can afford it. There is no "lead role" as each character is important. I have only watched three of the movies nominated for "Best Picture" but I think I understand why this movie was given the award.