This is interesting. I usually take long baths and the one I had this morning was even longer than usual. I nearly had a heart attack when I saw this crawling near the faucet.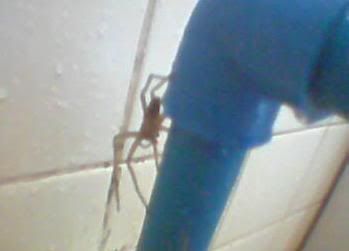 taken using my old Nokia 6610i
I don't know what the scientific name is. I just know that this is a common household spider and it's not poisonous. I don't think I have arachnophobia too. Nevertheless, I didn't dare touch it. It's not yet fully grown coz I've seen bigger ones but it still creeped me out. So knowing this, I doubt Ron Weasley is ever gonna visit our house... ever. Hahaha! I hope next time it's gonna be Spiderman (Tobey Maguire?) hanging out in our bathroom. Hahaha!