...comes around. Truly. I hailed a cab on my way home. The tax driver waved at me as a signal that he was waiting for me to get in. I was about to open the back door (driver's side) when he signaled for me to stop. He didn't want me to get in. I was confused and realized why when I glanced on the opposite passenger door. A couple of foreigners wanted to get in as well. Since, I think, they were Mormon missionaries, I gave way. There were lots of cabs around since it was rush hour at about 9AM in Makati. I didn't mind.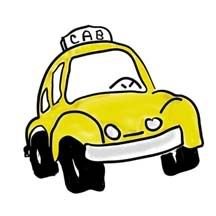 It didn't matter that I was the one who hailed the cab. What I didn't like was the fact that the driver was frantically hand-signaling me to stop opening the passenger door because he obviously preferred to have foreign passengers, probably thought they'd give him a bigger tip or if he's lucky, give him foreign currency. What an asshole.
Good thing the other foreign guy saw me and realized what happened. They didn't ride that cab as well. They hailed another one. In the end, that greedy prick of a driver didn't have any passengers. Hah!