WARNING: Rants ahead!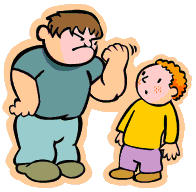 Why is there always a bully? Is it because there are people who are "willing" to be bullied? Is it because some people are just too scared to show their vulnerability and weaknesses, thus they become a bully? Or maybe some people just let power and/or money inflate their heads and bully other people just because they can? It's just irritating how people can force their views, beliefs, wants and even themselves on you just because they have the power to do so. It's also a pity knowing there will always be people who would be weak and/or scared to fight back.
Oh no, bullies don't just show themselves in school. They're like pollution. They can be found everywhere. Bullies don't just choose someone younger or smaller in size. They can choose anyone they want-- anyone they can overpower. In my office I have my own "Peanut the Destroyer" (anyone who saw "Ant Bully" can laugh out loud now. Hehe!). Peanut has made lots of lives miserable and yes, I had my being-bullied-by-Peanut days too. Lately, I feel Peanut's stepping over the line... No, I don't want to kiss ass because I need my job. As I said before, don't mind me. I work. I get paid. I go home. That's all I want to do. Is that too complicated to understand?
So, let's stop bullying and fight back!