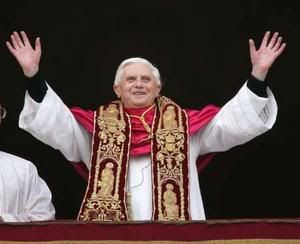 From
Yahoo! News
:
VATICAN CITY - Pope Benedict XVI on Wednesday pledged to work to unify all Christians, reach out to other religions and continue implementing reforms from the Second Vatican Council as he outlined his goals and made clear his pontificate would closely follow the trajectory of his predecessor, Pope John Paul II.

Benedict, the former Cardinal Joseph Ratzinger, listed top priorities of his papacy in a message read in Latin to cardinals gathered in the Sistine Chapel for the first Mass celebrated by the 265th leader of the Roman Catholic Church.
White smoke rose from the Vatican and church bells rang in Rome. We have a new Pope! =)
And as hazy as that smoke is my future in the new company. I've been working there for almost two months now and I learned earlier today that a certain company from the US will be buying our account, therefore affecting our contract with the company. I don't know what will happen to us. The Ops Manager said the expectation was for the new company to retain the agents (since recruiting and training is very expensive) BUT we may be signing a contract 120 days from now. Will the contract have changes? Possibly. What if we don't like the changes? We may leave and look for a job in another company or go to another account within the company. But will the pay be the same? I don't have an answer to that yet. What if we choose to leave, are we going to get a separation pay? How much?
Questions! Questions! My future is blurry in that company. At least, if I look in the bright side, I don't have to worry about the 11-month bond. Hopefully, these questions will be answered by next week when the "big bosses" meet and by that time, hopefully, I'll be able to determine if I have to worry about going through another training again. *sigh*