Finally got the mini-break I wanted. I wished it were longer though. Yesterday was full of stories and full of food too! It's been a while since I spent some time with my close college friends. We hang out and even swam in the nearby pool for a couple of hours making my skin about a shade darker. I love the fresh, cool air I can't find here in the city. I love the trees and the smell of freshly-cut grass! I really miss going home to the province.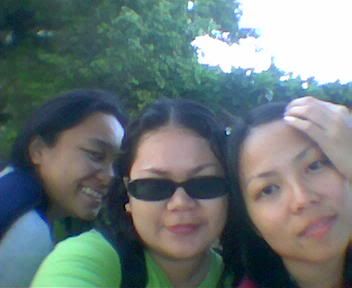 Joy, me and Joan
spending Labor Day in Pleasant Grove, Batangas
I still want a real tan though and a
real
, longer vacation. I need more of this. But I guess I can't have it all so that should do as of now.
Now looking forward to the
free
premiere showing of "Kingdom of Heaven" tomorrow. Tonight will be the start of my new GY shift so I have to sleep later. My supervisor just informed me that we have to report for work an HOUR before our shift starts because she wants no less than a top performer on her team. Take not,
no OT pay
for that. Hahaha! I knew it! I've heard a lot of not-so-nice things about our new supervisor. She would be an epitome of hell breaking loose. I hope it's gonna be bearable at the least. *sigh*
At least I'm looking forward to something... =)