Last night, I got an SMS message from a
friend
who told me and I quote: "Mark Feehily is F*ing gay!" I can't say I was surprised coz I have always suspected that he is. Like Stephen in Boyzone, there is always this one member of a boyband who would turn out to be gay. When all his
band members
started marrying women and he got left out, my
gaydar
was alerted.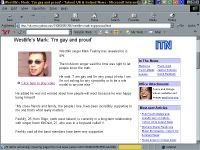 Westlife's Mark: I'm Gay and Proud
Mark is one of the my dream guys and I was just disappointed that my suspicions were right. I've always known I have this tendency... this
curse
of falling for men who turn out to be gay. I've had this since I was in high school. Where have all the (gorgeous) straight men gone?!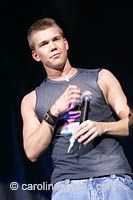 Kevin McDaid of V
picture taken from
this site
I have nothing against Mark being gay. Deep inside, I've always known he is and he will still remain as one of the men I most admire but would never have. Now, I'm thinking of having a sex change and take steriods to have a body like Kevin's.
Of course, I'm just kidding. :)
Mark Feehily in Manila
taken May 2001