We live in an apartment. We're letter C on a 7-door apartment complex, so we're situated in the middle. I don't know if it's the location or what but I notice that everyday, there are a lot of
maya
birds looking for food in front of our place. We have that space, some sort of a garage but too small to have a car fit in (if we have a car), where Mama does and hangs our laundry. Those birds, about 5 or so of them at a time, are always in front looking for food, so we see to it that every morning, we place small bits of
pan de sal
(bread) for them to eat.
Near the washing machine, there's small space where we place used footwear/slippers. We were surprised to see the cat (this cat that's always roaming around in the complex) and three new-born kittens. We don't know who owns this cat and since we are not cat enthusiasts, we were wondering what we should do. Animal shelters are not a big deal here, especially for non-purebred ones (
askal/asong kalye
or
pusakal/pusang kalye
). Oh well, if only
you
were here, I could have let you adopt these kittens.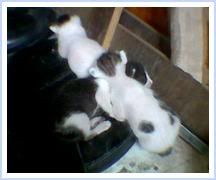 kittens!
They're so cute! But I know we could not take care of them. I am not a cat person myself. So, Mama placed them in a container when the mommy cat went out to find food and placed them by the tree about 5 houses away from us. We relocated them and I just hope they survive.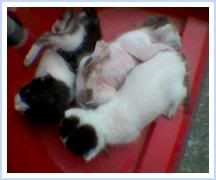 litters!

Earlier at work, I heard this song. It's been a long time since I last heard this. For the first time, I was happy to be placed on hold by a customer service representative. This was the hold music and I was able to finish listening to this song when we were placed on hold. :)
"Crash And Burn"
~*Savage Garden*~


When you feel all alone
And the world has turned its back on you
Give me a moment please to tame your wild wild heart
I know you feel like the walls are closing in on you
It's hard to find relief and people can be so cold
When darkness is upon your door and you feel like you can't take anymore


Let me be the one you call
If you jump I'll break your fall
Lift you up and fly away with you into the night
If you need to fall apart
I can mend a broken heart
If you need to crash then crash and burn
You're not alone


When you feel all alone
And a loyal friend is hard to find
You're caught in a one way street
With the monsters in your head
When hopes and dreams are far away and
You feel like you can't face the day


Let me be the one you call
If you jump I'll break your fall
Lift you up and fly away with you into the night
If you need to fall apart
I can mend a broken heart
If you need to crash then crash and burn
You're not alone


'Cause there has always been heartache and pain
And when it's over you'll breathe again
You'll breathe again


When you feel all alone
And the world has turned its back on you
Give me a moment please
To tame your wild wild heart


Let me be the one you call
If you jump I'll break your fall
Lift you up and fly away with you into the night
If you need to fall apart
I can mend a broken heart
If you need to crash then crash and burn
You're not alone