Hey that's not in the book! But it's nice.
That's the first time I heard my purist mother say those. She never really appreciated book-adapted movies that have a lot of deviations. She reread the book
"Memoirs of A Geisha"
a few days ago and we watched the
movie
yesterday. She said that during the Sayuri's solo dance and when Hatsumomo tried to burn down the
okiya
. I, myself, kinda forgot the story 'coz I read it some years ago, but I love the movie! Maybe that's one good thing of not remembering all the nitty-gritty details in the book, at least I don't get distracted when I see a scene that didn't happen in the books.
They say a geisha is a walking art. I think the movie was art itself. From the beginning until the end, I was just awed by the beauty of the surroundings and they way the narration was made. Sayuri's solo dance wasn't even discussed in detail in the book (as far as I can remember) but it was amazing. Kudos to Mr. Rob Marshall! I also love those bamboo poles lined-up on the sides of a pathway where young Chiyo was running when she first saw The Chairman (also shown in the end of the movie), the same way the bamboo poles lined up the way to Mameha's front door (when Chiyo was returning the ruined kimono). There was also a moment when they just focused on the water with cloth and red ink flowing through it during war times and it was symbolic. I like that too.
(Edited)
John Williams did not make the music for "Harry Potter and the Goblet of Fire" in order to do "Memoirs of a Geisha" and he earned a Golden Globe (so far). I think he made a good decision.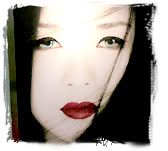 It was a long movie, but I didn't mind. I think those who haven't read the book would still love the movie. Oh well, thumbs-up to Ms. Zhang for giving justice to the role (even if she isn't Japanese. Hehe!) Ms. Yeoh didn't even need make-up to show what a beauty she is. I guess Ms. Li, who played Hatsumomo, should have been more sinister but that's ok. Or I wished Mr. Watanabe didn't mumble on his lines that much so I could have understood everything he's saying (Heehee) or was more dashing as he was a gentleman. But that's fine. I like the way they focused on the childhood. It reminded me of "A Series of Unfortunate Events" when she learned her parents died. The young (and pretty) actress who played Chiyo, Suzuka Ohgo, was really good. I wish they also made more screen time to show what happened to Sayuri's sister, but maybe they didn't think it was important enough. The movie just proves Asians can stand out in Hollywood. The ending was predictable, kinda "they lived happily ever after" and "age does not matter" moment, but it made me teary-eyed. I never expected that! Some critics may say it's hollow or mediocre but for me it was heart-breaking and beautiful. That's what counts.