I read this comic book last week and thought it was funny. It has also been a while since I watched a play in CCP. My officemates and I decided to watch this play one of the weekends of February. No definite date yet 'coz as usual, our anti-social work schedules are making things more difficult, but most likely it's gonna be a Saturday, an 8 PM show. One of my officemates knows someone working in CCP so she will get 2 free tickets. We are also free to watch their rehearsals. Cool huh?
So, anyone who would love a laugh (and who's not homophobic? Hehe!), let's all watch this. More info in
Miao's Multiply Blog
too!
Nicked this info from
Jonas's blog entry
: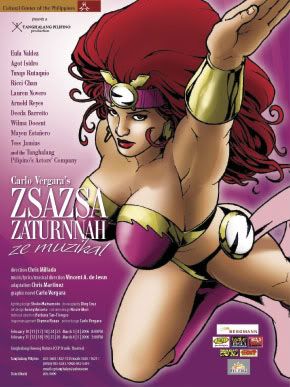 The Cultural Center of the Philippines presents a Tanghalang Pilipino production:
Carlo Vergara's Zsazsa Zaturnnah: Ze Muzikal


February 10 | 11 | 17 | 18 | 24 | 25 March 3 | 4 | 2006 8:00PM
February 11 | 12 | 18 | 19 | 25 | 26 March 4 | 5 | 2006 3:00PM


Tanghalang Huseng Batute (CCP Studio Theater)


Tanghalang Pilipino
Tel. nos.: 832-3661/832-1125 locals 1620/1621/
Mobile: (0920)953-5381/(0920)953-5419
E-mail: ccptanghalan@yahoo.com
TicketWorld: 891-9999