I am. Definitely. I attended the volunteers' briefing yesterday. I haven't caught a snooze after my shift so I was in the Powerplant mall a bit sleepy and very exhausted. But that didn't stop me from tingling up when I saw all the Gaiman books being sold! Wow! If only I were rich...
Anyways, I attended the briefing and am quite excited for next week. I saw our black t-shirt and our volunteer ID. They were so cool! I'll make sure I take an extra vitamin C so I could avoid having a fever and flu again, which usually happens if I don't sleep for 20 or more hours straight. That's what's gonna happen to me this coming Saturday. But since it's a once in a lifetime event, I don't care... even if it's my birthday the next day. I just wish I don't sleep my birthday away. Haha!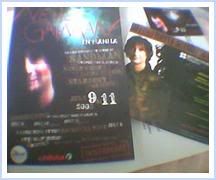 Gaiman valuables
On the left side of the pic is a sample of the Gaiman flyer Fully Booked is giving out for additional promotion. On the lower right side is my British Council invite for the writers' forum on Monday. On the upper right side is my book signing pass. Two were actually given to each of the volunteers without even having to buy a book! Cool huh? But I still wanted to own
"Smoke and Mirrors"
with Gaiman's autograph. The book is actually sold out in the Powerplant and Gateway branches. Thanks to a kind soul (hi Nina! :)), she went to Bibliarch today and bought some books for herself and got me this book too! Yay! :) Anyways, the piece of paper at the bottom of these stuff are those
confidential
info for Saturday's "The Gathering" given to the volunteers. Hehehe!