I haven't gone to a
Sabado night gimmick
in a while. In a while, means for years now. This is also the first time I went to a musical gig with my siblings and the first time I shared alcoholic drinks with them. Haha!
Last Saturday, we went to Marikina Riverpark to watch the first anniversary party of Riverbooze Bar. We arrived there quite early after a 2-hour travel from home. I was with my sis, bro and his girlfriend and my brother's bandmates. My brother is a bassist of the Fortress band, who plays there on a regular basis. Good thing they played at about 10:30PM before Cueshe and Hale.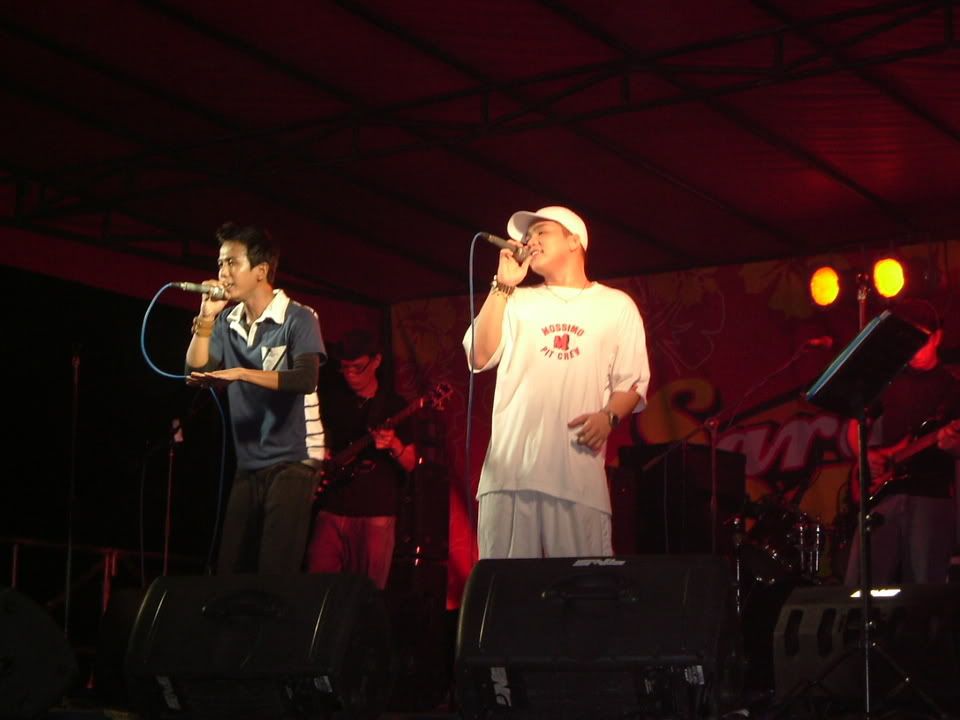 Fortress
(my brother at the background)
There were fireworks at about 12 midnight. After the fireworks display, Cueshe went onstage and performed their set. Not a lot of people went to have their stuff signed before they went onstage. They actually stayed a table away from us since we were situated near the back stage (a perk of having my brother around). They last song they played was "Stay", their popular single. After the people realized they were huge, fans, mostly girls, stormed the backstage after their performance. At this time, my
sister
and I were busy sneaking in the backstage to watch Hale set up. They'll be performing after Cueshe.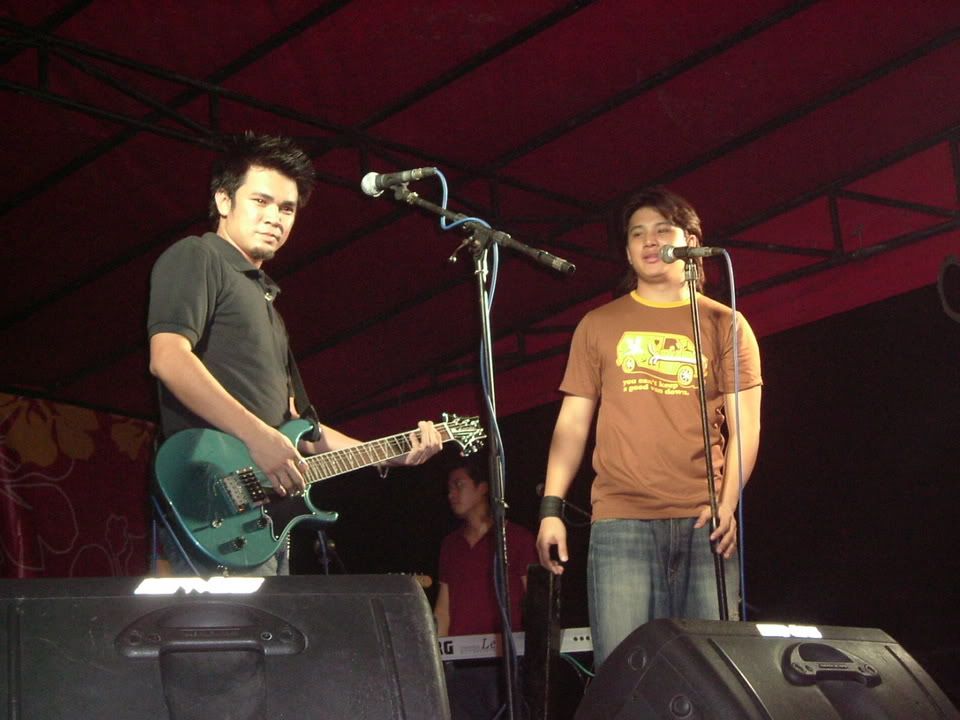 Cueshe's Ruben and Jay
We saw the members of Hale and found Champ, the lead vocals, picking up his guitar. I said, "Champ, picture naman o." At this time, there were no screaming fan girls yet. They were busy mooning over Cueshe. Then Champ said, "sige ba..." He posed and I went beside him. He has his guitar with him, it was sooo cool! As my sister readied the camera, someone told us (I think it was the manager), "Mamaya na... mamaya na... pagod na ang banda. Pangatlong gig na nila to ngayong gabi..." My smile turned into a frown. I understand. But then I also realized that if I wait until after they performed, I wouldn't have a chance. I am not the stalker-type so I knew I blew it. Darn. Then Champ patted me on the back (yes, he did!) and said, "Mamaya na lang ha..." I just smiled and thanked him for his time.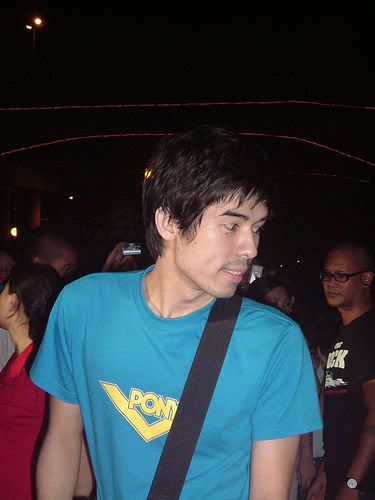 backstage pass
After this we went over to Cueshe's table. Fangirls already cleared out the scene. They're busy swarming around Hale this time. So, I went to their table and asked Ruben, one of their singers, to have his photo taken with me and my sister. He's really nice and after the photo op, I shook his hand and thanked him.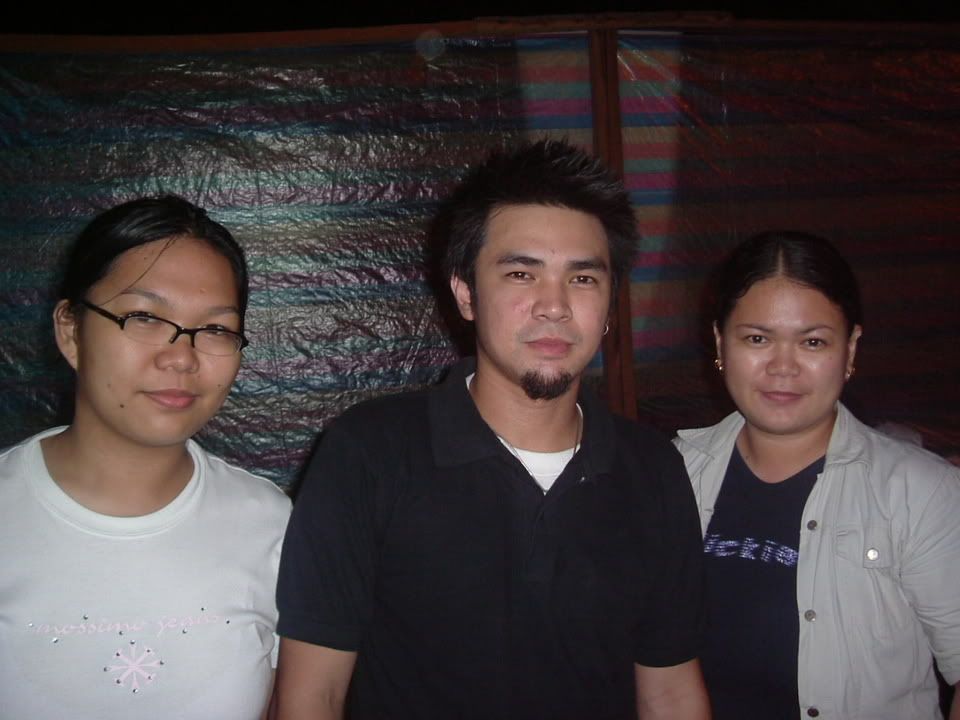 with Ruben
Hale performed their set including their two hits, "Broken Sonnet" and "The Day You Said Goodnight", some songs from their album and their upcoming single.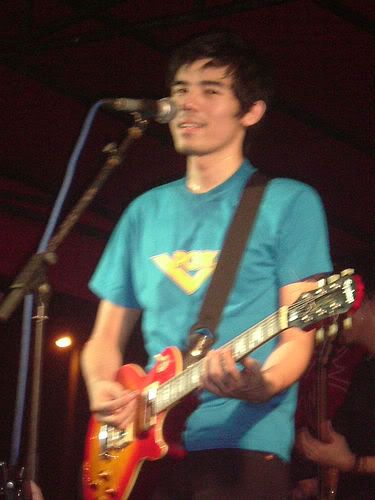 singing
I told myself I have to attend one of Hale's future gigs because I have to remind Champ that he owes me a pictorial. Hahaha! I love these days when I forget how boring my life is! =)
For more pictures,
click here
. I uploaded them in this site because my
Multiply site
has reached it's monthly limit. Darn.