It was, I think, the most quiet date we've ever had. Usually, I would blab about the current happenings in my life and share bloopers in my job, but after mass, I was sitting quietly on a park bench and he was asking the questions. He was aware of my being mad to my mother. For a couple of days, I never faltered in front of my sister or in front of anyone but that day, I felt so vulnerable. Finally seeing him after being mad at him for a few days and the added weight of being mad at my mother was too much to bear. I looked at the beautiful sunset, the bats flying overhead, the bubbles blown by the kids, anywhere but him. When he saw my tears, it was one of the most awkward moments in my life.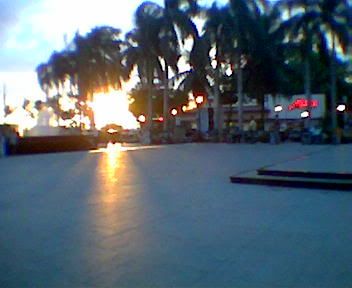 Manila Bay sunset
view from Rajah Sulayman Park


(taken using Nokia 6610i)



It didn't last though since he held my hand and we ate dinner, I started smiling again when he told me about his plans about getting another job. He and his officemates filed a court case against his former employer. I never ate a thing that day so I ate a lot during dinner.
Baywalk
was like our small little haven. There were a lot of people that evening, but not as noisy as Saturday nights. We bought coffee and faced the sea and I remained silent. We just sa there and stared at the ocean. The music was beautiful acoustic. There were moments when he attempted to ask me some questions. Finally, I told him why I was mad at him. It was not relayed as I expected because it felt like I can't find the right words to say, but he understood and he's trying his best now. So, in short,
bati na kami ulit
. Then I went home at a little past 9PM lest my mother locks me out of the house again. =)
Heaven knows
Love is just a chance we take
We make plans
But then love demands a leap of faith
~ "Love Moves in Mysterious Ways" by Julia Fordham